by Ryan Anderson – arkansasonline.com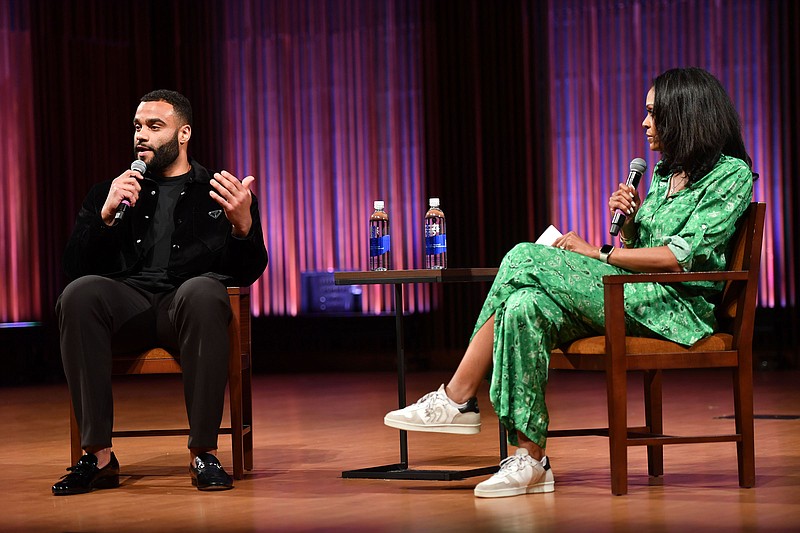 FAYETTEVILLE — Even though he was living his dream playing in the NFL, Solomon Thomas was plagued by suicidal thoughts early in his career.
"It got dark," he said, until lessons learned in therapy helped him find the "light" in the pouring rain.
"Sometimes how we look on the outside is not how we feel on the inside," Thomas explained Wednesday during an event on the University of Arkansas, Fayetteville campus sponsored by Associated Student Government. "You can see a friend who looks happy but never know what [he or she] is going through."
That's why it's paramount to "keep the conversation going" and make it "more normal" to discuss mental health, thereby eliminating — or at least attenuating — the "stigma" around the subject, said Thomas, co-founder and board chair of The Defensive Line.
"Don't hide it," because if the topic is open, more people will feel safe to seek help for their own challenges, he said.
The Defensive Line Foundation is a nonprofit dedicated to curtailing suicides among youths, particularly young people of color, by providing health and wellness programs, education and support to families through workshops, storytelling of personal experiences, and partnerships with schools to support robust prevention mechanisms, according to the foundation. Thomas launched the foundation following the death by suicide of his sister, Ella, at age 24.
As an athlete, Thomas bought into the "be tough, be strong, be a man" ethos that's been the philosophy of sports for generations, but that code failed him after Ella's death, during his second year in the NFL, he said. It didn't allow him to speak about his feelings or share his emotions, which only exacerbated his own mental health crisis.
His general manager with the San Francisco 49ers, John Lynch, approached Thomas one day to ask if he needed aid, which led to therapy, and therapy "saved my life," he said. He learned to cope with his emotions, as well as to love — and have confidence in — himself.
"I know who I am, and I love myself unconditionally," he said. That confidence and self-belief has benefited him immensely both on and off the field.
"My problem has not been the physical side; [rather], I didn't believe in myself," he said. In fact, the day after he was drafted third overall in the 2017 NFL Draft by the 49ers, he was already "in my own head," doubting and worrying about his career.
"I'm a big over-thinker," which daily journaling — a technique learned in therapy — has helped counteract, he said. So, too, has daily meditation, and simply giving himself "some grace."
"Make sure you give yourself enough space to take care of yourself," he said. "If you're not your best self, how can you help anyone else?"
Following his playing career at Stanford University, which included the Morris Trophy — awarded annually to the best offensive and defensive linemen in the Pac-12 Conference, selected by opposing players — and tenure in San Francisco, Thomas joined the Las Vegas Raiders for the 2021 season, then the New York Jets the following year, where he was their nominee for the 2022 Walter Payton Man of the Year Award. He remains a Jet and is eager for the season, as he feels the best he has in years mentally and emotionally.
Despite the progress he's made, Thomas still has to work daily on his mental health in order to avoid falling back into old habits, and he's not immune to the pressures of triggering events, he said. For example, he was highly emotional about returning to UA-Fayetteville, where his sister went to school.
However, he spoke about his anxiety with members of his mental health team, as well as friends, which helped him find solace, he said.
"Loving myself, and telling myself, 'The journey is messy' changed my life," he said.
Today's youths, whether middle school, high school, or college, "have so much they are dealing with," and mental health is "so important," said Danyelle Musselman, who moderated the question-and-answer session. Unfortunately, it's "not talked about enough."
That's why The Defensive Line is intent on helping mentors spot signs of distress in youths, then succor them, or provide direction and resources for assistance, Thomas said. Creating safe mental health spaces for youths will help save lives, he said.
As Thomas gained control over his mental health, he began to speak out publicly more, and he and his family eventually launched the foundation, he said. However, initially, he'd only share his sister's story, not his own.
"I didn't want to open up about my feelings, [but] I discovered the power of being vulnerable," said Thomas, who participated in the announcement of the new 988 Suicide Prevention Hotline in a national campaign and continues to work with the NFL to improve mental health programming in the league. He received more feedback from listeners, which only showed him "we are all going through our own struggles," he said.
Suicide is the second-leading cause of death among people ages 15 to 24 in the U.S., according to the National Alliance on Mental Illness. Nearly 20% of high school students report serious thoughts of suicide, and nearly 10% have made an attempt to take their lives.
Musselman, who spent years in sports broadcasting for various organizations and whose husband, Eric, is head coach of the Razorbacks men's basketball team, said she's seen the mental health challenges of her husband's players, especially since the start of the covid-19 pandemic.
Social media often acts as an accelerant to a burgeoning mental health crisis, she said.
"I know our athletes say social media is always a factor" in their struggles, she said.
Social media can be great, but also toxic, because it's so comparative, and users generally only share the best parts of their lives, Thomas said.
"Life is not always a highlight," he said.
When he wasn't performing well on the field in part due to his sister's death, users castigated Thomas for substandard play, even sending "legit death threats," he said. He mostly withdrew from social media, but returned as he gained self-confidence, won through years of therapy.
Therapy ought to be employed more as preventative maintenance than emergency intervention, even though the latter "is how I used it," said Thomas, whose off-field efforts to prevent suicide and ameliorate mental health have been spotlighted by media outlets such as CNN, ESPN, The New York Times and the NFL Network.
"A therapist is like a life coach, and it's a true safe space," he said.