Surveys are a key cornerstone of HereNOW, because it's a proven way to document and track recovery progress. Whether you are a client, provider, or family & friend, learn about how to complete surveys, edit responses, and review results to gain relevant insights that matter to you.
Start a survey


Start a survey via Chat & Meet
When you complete a pre-scheduled meeting, you'll be prompted to start a post-meeting survey right away. Tap Next to start the survey:

NOTE: the meeting timeframe is pre-determined by the original calendar event. For example, if your Provider created a 1-hour therapy session, your meeting will end at the top of the hour, and you will be prompted to start a post-meeting survey. If you leave a meeting before the scheduled end time, you will not be able to complete a survey.

Answer the survey questions that appear on your screen by selecting or typing a response, then tapping Next:

 
TIP: Use the progress bar at the top of your screen to see how many questions are remaining.
NOTE: You'll encounter different types of questions depending on the nature of your meeting, like multiple choice or open text. If the question is mandatory, the Next button will be inactive (and appear faded) until you select an answer. If the question is optional, you can select Next or Skip to go to the next question.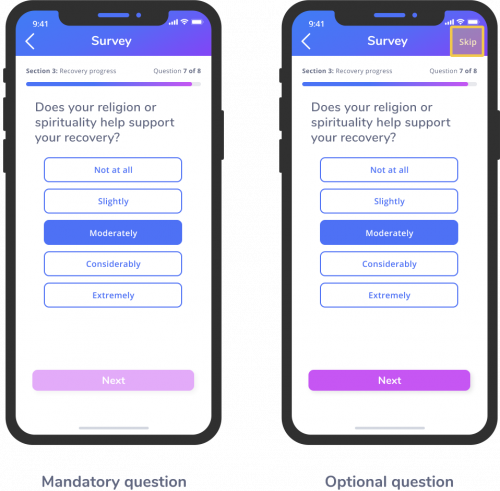 START A SURVEY VIA JOURNEY
Open the app and tap on the Journey icon ( ). On the next screen, tap on My Progress:



Scroll down to My Progress > Survey. Tap on any available survey to start it. You will only be able to start or edit a survey that is labled "Available".




NOTE: Starting a survey as soon as you finish a meeting helps to capture your thoughts and feelings accurately. Missed a survey? Don't worry – you can come back to it within 7 days of your meeting. After then, the survey will expire and you won't be able to complete it.
Submit a survey


Once you reach the last screen of a survey, you will see a Submit button.
Pressing the submit button records your survey data and notifies your Provider that you have submitted the survey: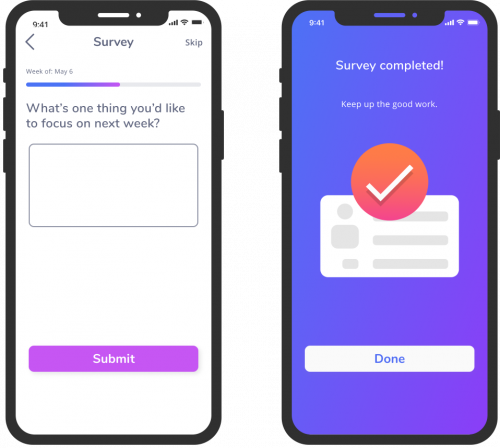 Edit your responses

After completing your survey, you can edit your responses anytime before it expires (usually 7 days after your meeting). To edit your responses, simply follow the same steps outlined above in Start a survey via Journey.